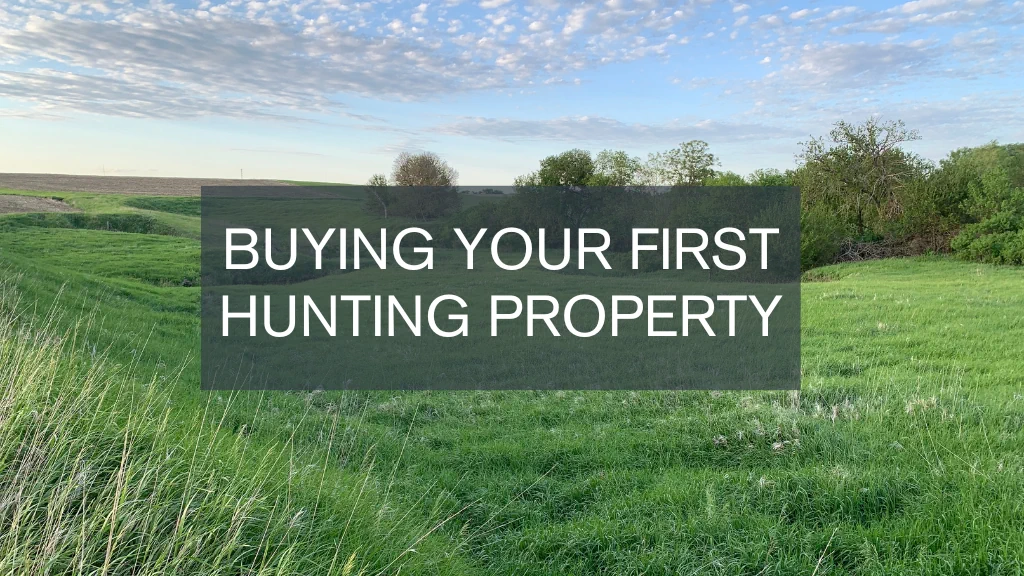 Buying your first hunting property
November, 2022
Buying your first hunting property
Gone are the days of knocking on the door of a local farmer to get permission to hunt their land without an official lease agreement. With the consolidation of farms over the years, there are less farmers to get permission from making expensive hunting leases more popular than ever.
When you do find a farmer who is willing to let you hunt their land, are you the only one who has the permission to hunt? It's common to hear about someone who had permission 20 years ago, believing they still had permission to hunt without asking if that was the case. These conversations rarely are cordial. What if there was a better way?
You could buy your own land. If this is something you are thinking about, here are a few things to consider when buying land.
Determine your criteria
Identifying what you will be using the land for will help you determine where to start. Will it be used for big game hunting, waterfowl hunting, or do you want a fishing pond on it? How about what kind of government programs are on the land, if any, such as CRP and WRP? And lastly, what kind of budget do you have to work with?
Where to look for the listing
There are a few places to look for listings for land including the MLS (Zillow and Realtor.com) and websites like Land.com and LandWatch.com. You would also greatly benefit from working with a real estate agent who specializes in land sales. One thing to keep in mind is some brokerages only work on the MLS and some work the non-MLS websites. Try to find a brokerage who works on both. Nebraska Realty Land Division agents work on both - giving you access to more listings for your consideration.
Working with an agent will increase your chances of getting that land because you'll be the first one they call. To get the most out of your agent, give them your criteria right away and a timeline you are hoping to achieve. If you aren't sure what you are looking for, when that agent sends you a property, tell them exactly what you like and don't like about it. If you can be clear with your agent, you will be impressed with their ability to find what you are looking for.
Also, if you happen to see a listing through another brokerage, a NR Land agent can help you obtain it with no additional cost to you.
Road Access
Remote locations are great for hunting purposes due to less pressure from humans, but accessing it yourself may be a challenge you want to avoid.
Creating a road to extremely remote parcels can be very costly. It may have a minimum maintenance road, but will you be able to access your property with a modest rain? Be sure to research the pros and cons of minimal road access and alternative access options available so that you can decide what is important for you.
Utility access
The four main utilities to consider are water, sewer, electricity and internet. The necessity of these is dependent on your goals of your property.
Do you plan to build a small cabin on the property? If so, you will likely want most of these utilities present. If you are expecting your spouse who grew up in the city to come spend the weekend with you at your hunting cabin, you better make sure the cabin is equipped with what they would like or need as well. It may be wise to increase your budget to make it the way you want from the start.
Financing the land
There are no hard set rules of financing land. Overall, the lender is going to look at your ability to pay back the loan. They will look at several things including your personal balance sheet, income on the potential property, and other sources of income you have to make the monthly payment. They will likely need at least 30% for a down payment.
Buying land might feel like an unattainable dream but you can start turning that dream into a reality by setting some goals. Start with a budget and if necessary, pick up a "side hustle" and make some other lifestyle changes to help reach your goal. Connect with a Nebraska Realty Land Agent today to help you find that dream hunting property!